Ash Borer and Fell Voices are both from California, USA and have been active since 2008. Both bands play what could be defined as American black metal incorporating a wide range of influences from everything from raw black metal, ambient, psychedelia, funeral doom and drone.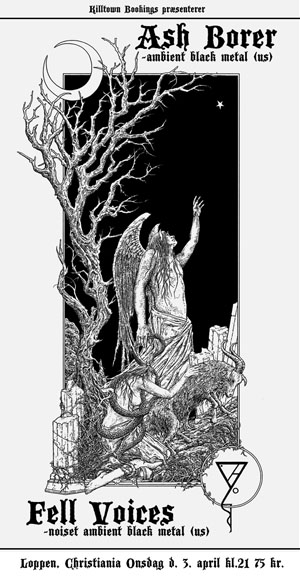 http://ashborer.bandcamp.com/
http://www.ash-borer.blogspot.com
Ash Borer is a black metal act from Northern California formed in the winter of 2008. After releasing 2 demos, a split with Fell Voices, and a self-titled full length, Ash Borer have unleashed a new full-length onslaught, *Cold of Ages*, via Profound Lore Records. This new material proves to be their darkest, most ferocious, and strongest to date, drawing influences from from second-wave Norwegian black metal, psychedelia, dark ambient, funeral doom, and more, all while retaining a sound that is distinctly their own.
Ash Borer discography:
-Demo CS (2009)
-Rehearsal Demo (2010)
-Split w/ Fell Voices (2010)
-S/t Full Length (2011)
-"Cold of Ages" Full Length (2012)
http://fellvoices.blogspot.com
Fell Voices are an atmospheric black metal band from Santa Cruz, California, that also incorporates drone, ambient and doom qualities into their inspired breed of black metal. They released a self-titled cassette demo (sometimes referred to as In the Hands of the Blind God) in 2008 on Featherspines, and followed that up in 2009 with their self-titled full length debut on Human Resources, pressed on 180 gram vinyl. A split with Ash Borer followed on tape in August 2010; a demo CD-R was released around the same time. The 2010 demo and the split were both pressed on vinyl by Gilead Media and released in March of 2011. The 2008 demo was pressed on vinyl by Analog Worship in late 2011.
Fell Voices discography:
-Demo (2008)
-S/t Full Length (2009)
-Split w/ Ash Borer (2010)
-Untitled Full Lenght (2010)