http://www.austinlucasmusic.com/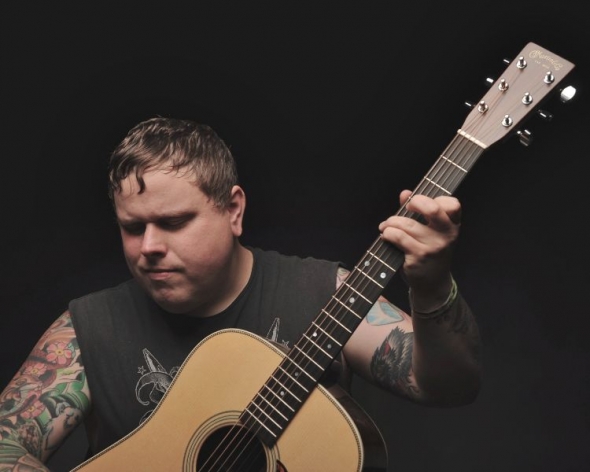 Raised in the backwoods country of Monroe County, Indiana, Austin Lucas was born into a folk and bluegrass lineage. His father, Bob Lucas, is an accomplished musician and performer in his own right, having earned songwriting credits on two of Allison Krauss' albums. Learning to harmonize before learning to read, Lucas honed his vocal control as a member of the nationally-acclaimed Indiana University Children's Choir. In a narrative as well-worn as it is true, Lucas rebelled against his upbringing, leaving his Americana roots for the catharsis of punk rock. After the better part of a decade spent criss-crossing the globe with a series of bands in broken-down vans, Lucas hit a musical glass-ceiling, eventually finding respite for his ringing ears in the delicacy of traditional songcraft.
Singing with the conviction of a preacher bereft of his faith, Lucas tackles recurrent themes of the soul, sin as personal purgatory, and the possibility of finding redemption in this life. The fallacies of man take center stage as the righteous false prophet is denounced as a "hollow vessel with unsteady hands." Turning the harsh light of hindsight on himself, Lucas addresses the hard lessons learned in the passing of youth, ruminating on the failures and missed opportunities, pledging, "If there's a light shining/ Point the way there/ A straight way of walking/ I'll be like an arrow."
Following his solo debut, The Common Cold (2006), Lucas has steadily built upon his recorded output, releasing Putting The Hammer Down (2007), the Bristle Ridge (2008) collaboration with Chuck Ragan of Hot Water Music, and Somebody Loves You (2009), which debuted at #7 on the Billboard Bluegrass chart. Culminating with his fourth album, A New Home In The Old World (2011), Lucas has consistently evolved and grown as a musician and songwriter, resting on no laurels and developing the songs' framework further with each successive album.
Having raised his profile on the road with Willie Nelson's Country Throwdown tour, the troubadour-packed Revival tour, and in support of Pennsylvania's Langhorne Slim, Lucas has also bolstered his loyal grassroots following with appearances at the Philadelphia Folk Festival, Canada's Sled Island Festival, Florida's Harvest of Hope, and a a 2011 European tour. Folk music is for the common folk, and Lucas delivers, often ending his shows playing on the floor amidst the crowd. Lucas will tour extensively through 2013, sweeping through Australia in January before heading to SXSW Music Festival in Austin, TX in March, then to Europe in March/April, followed by a US headlining tour with dates to be announced in the coming weeks.
The phrase "Long Live All of Us" is the title of Glossary's seventh full-length album, but it's also meant as an all-inclusive homage to humanity. Frontman Joey Kneiser says, in light of all the bad things happening in the world, the band just wanted to make a positive record.
Long Live All of Us allowed the band from Murfreesboro, Tennessee, to take their influences farther than ever before, adding piano, haunting pedal steel, R&B-influenced horns and more to their own style of romanticized rock & roll. The songs are well-intentioned narratives that emphasize the great attributes of mankind — mercy, redemption, forgiveness and second chances.
Over a period of one month, the band transformed a house in rural Rockvale, Tennessee, into a recording studio and self-produced Long Live All of Us with friend and engineer Mikey Allred. The setting, joked Kneiser, would have fit perfectly into a Glossary song. The house was sandwiched between a church and a condemned meth lab, which was still wrapped in police tape.
Previous records — like 2010's Feral Fire on Lucero's Liberty & Lament label — were all recorded in 10 days or less, and were made to have a live feel. For the first time ever, the band had the luxury of time on its side.
"That's the rock & roll dream…to live in a house and write and record together all day," says Kneiser. "It allowed us a chance to experiment, and if you really wanted to do something you could take the time to make it happen. It was really one of the greatest creative experiences that I've ever had."
The result is a hodgepodge of American music, similar to the Rolling Stones' Exile on Main Street or the Clash's London Calling — records that spanned many different musical genres. For example, Long Live All of Us switches from a Gospel-influenced song to a hopping, R&B-styled groove, and then to a crawling, country-tinged ballad and on to a soulful, up-tempo rock song. Jim Spake (Al Green, Alex Chilton, John Hiatt, Lucero … so many more) and Nahshon Benford, (Snowglobe, Lucero) both from Memphis, added horns on several tracks, including jaunty, Stax-like rhythmic horns on "A Shoulder to Cry On" and a lyrical baritone sax solo on "Under the Barking Moon."
"In the end," Kneiser says, "when everything around us is constantly reminding us of what we're doing wrong, we just wanted to remind us of what we're doing right."
"The best thing that we have going as human beings is each other," he says. – Jeremy Rush