http://www.kinkyfriedman.com/index.html
http://www.facebook.com/pages/Kinky-Friedman/182758791772472?ref=ts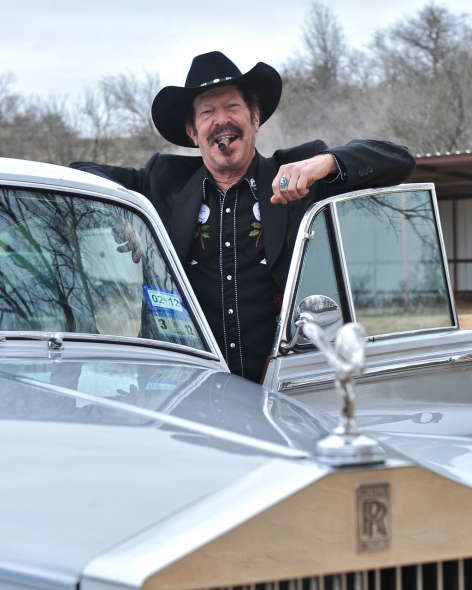 Richard S. "Kinky" Friedman is an American Texas Country singer, songwriter, novelist, humorist, politician and former columnist for Texas Monthly who styles himself in the mold of popular American satirists Will Rogers and Mark Twain. He was one of two independent candidates in the 2006 election for the office of Governor of Texas. Receiving 12.6% of the vote, Friedman placed fourth in the six-person race.
Friedman formed his first band, King Arthur & the Carrots, while a student at the University of Texas. The band – which poked fun at surf music – recorded only one single in 1966 ("Schwinn 24/Beach Party Boo Boo").
By 1971, Friedman had formed his second band, Kinky Friedman and The Texas Jewboys, which many took to be a play on the name of the famous band Bob Wills and His Texas Playboys. In keeping with the band's satirical nature, each member had a comical name: in addition to Kinky there was Little Jewford, Big Nig, Panama Red, Wichita Culpepper, Sky Cap Adams, Rainbow Colours, and Snakebite Jacobs. More conventionally named roadie Jack Slaughter and road manager Dylan Ferrero rounded out the crew and provided most of the driving of the "tour bus", a Cadillac with 10-year-old expired license plates and a nasty predilection for going into a coma at the most inconvenient moment (but, according to Friedman, her talent lay in her ability to stop on a dime and pick up the change).
Friedman's father objected to the name of the band, calling it a "negative, hostile, peculiar thing", which gave Kinky even more reason to choose the name.
Arriving on the wave of country rock following on from Gram Parsons, The Band, and the Eagles, Friedman originally found cult fame as a country and western singer. His break came in 1973 thanks to Commander Cody, who contacted Vanguard Music on his behalf. Friedman released Kinky Friedman in 1974 for ABC Records, then toured with Bob Dylan in 1975-6. His repertoire mixed social commentary ("We Reserve the Right to Refuse Service to You") and maudlin ballads ("Western Union Wire") with raucous humor (such as "Get Your Biscuits in the Oven and Your Buns in Bed"). His "Ride 'Em Jewboy" was an extended tribute to the victims of the Holocaust.
One of his most famous numbers is "They Ain't Makin' Jews Like Jesus Anymore," a song in which Kinky verbally and physically beats up a drunken white racist who berates blacks, Jews, Greeks, and Sigma Nus in a bar.
"Oh, they ain't makin' Jews like Jesus anymore,
They ain't makin' carpenters that know what nails are for"
Other Friedman tunes include "The Ballad of Charles Whitman," in which Friedman lampooned Whitman's sniper attack from the University of Texas at Austin's Main Building tower on August 1, 1966. His cover of Chinga Chavin's "Asshole from El Paso", a parody of Merle Haggard's "Okie from Muskogee" is, perhaps, his most famous song.
After his music career stalled in the 1980s, Friedman shifted his creative focus to writing detective novels. His books have similarities to his music, featuring a fictionalized version of himself solving crimes in New York City and dispensing jokes, wisdom, recipes, charm and Jameson's whiskey in equal measure. They are written in a straightforward style which owes a debt to Raymond Chandler. To date, he has written two novels that do not star the Kinky Friedman character: Kill Two Birds and Get Stoned and The Christmas Pig.
Friedman also wrote a regular column for the magazine Texas Monthly from April 2001 to March 2005 which was suspended during his run for governor of Texas. In 2008, Texas Monthly brought his column back on a bimonthly basis.
Two books have been published collecting some of these nonfiction writings, as well as previously unpublished ones: 'Scuse Me While I Whip This Out and Texas Hold'em. He has also published a travelog (The Great Psychedelic Armadillo Picnic) and an etiquette guide.
Friedman's early books have been republished by Friedman's own Vandam Press as ebooks. During March and April 2011 Vandam released seven of Friedman's early titles including: Greenwich Killing Time, A Case of Lone Star, Musical Chairs, When The Cat's Away, Frequent Flyer, Roadkill and the rarely seen Curse of the Missing Puppet Head. Elvis Jesus and Coca-Cola, God Bless John Wayne, Blast From The Past, Armadillos and Old Lace and two nonfiction books, Drinker With A Writing Problem and Heroes of A Texas Childhood were released in 2011. E-book releases are announced on Friedman's Twitter feed and Facebook page, "TheRealKinkster".
Friedman also announced (via Jim Bessman's column at examiner.com) the upcoming release of all Vandam Press titles as unabridged audio books "read by the author".
The recurring character "Rambam", a New York private investigator and friend of the Friedman character in the books, is based on the real-life investigator, Steven Rombom, who acts as a technical advisor for the real Friedman.[15] Old Peace Corps friend and long time road manager Dylan Ferrero is also a recurring character in Kinky's mystery novels; his character is known for only speaking in rock and roll quotes, a trait taken from real life.
In 1986, Friedman ran for Justice of the Peace in Kerrville, Texas, as a Republican but lost the election.
Friedman speaking at Southern Methodist University in Dallas on October 5, 2006.
In 2004, Friedman began an ostensibly serious, though colorful, campaign to become the Governor of Texas in 2006. One of his stated goals is the "dewussification" of Texas.[16] Among his campaign slogans were "How Hard Could It Be?", "Why The Hell Not?", "My Governor is a Jewish Cowboy" and "He ain't Kinky, he's my Governor" (cf. "He Ain't Heavy, He's My Brother").
Friedman had hoped to follow in the footsteps of other entertainers-turned-governors, including Jimmie Davis, Jesse Ventura, Arnold Schwarzenegger, and Ronald Reagan. Jesse Ventura even campaigned with Friedman for his election. When the campaign finance reports came out after the second quarter had ended, Friedman had raised more funds than the Democratic nominee, former Congressman Chris Bell.
On election day, however, Friedman was defeated by a wide margin, receiving less than 13% of the votes in the six-candidate matchup.
CHET O´KEEFE:
http://www.rootsylive.com/artist.asp?CArtist=3345